learn infinity and e-learning
Learn Infinity is an e-eLearning company trusted by 1900+ students. Let's begin by defining e-learning. E-learning is not a new word for anyone who has seen technology and has been a part of the internet. However, let's begin by defining it.  E-learning or electronic learning simply is the delivery of learning materials through electronic devices like phones, computers, or tablets with the internet, making it easy for learners to access learning anywhere, anytime. But why do organizations need e-learning?
What is e-learning for oragnizationS?
The same E-learning method applied to train employees is the main idea of E-learning for organizations. The idea for training employees emerged during the second world war in a military context which further influenced different types of companies, thereby creating a worldwide need for it. But, to date are all organizations able to effectively deliver training to their employees?
 According to Shift Learning, a survey suggests that only 12% of employees are able to apply training content into their actual work! Learn more about the benefits of corporate e-learning.
learn infinity e-learning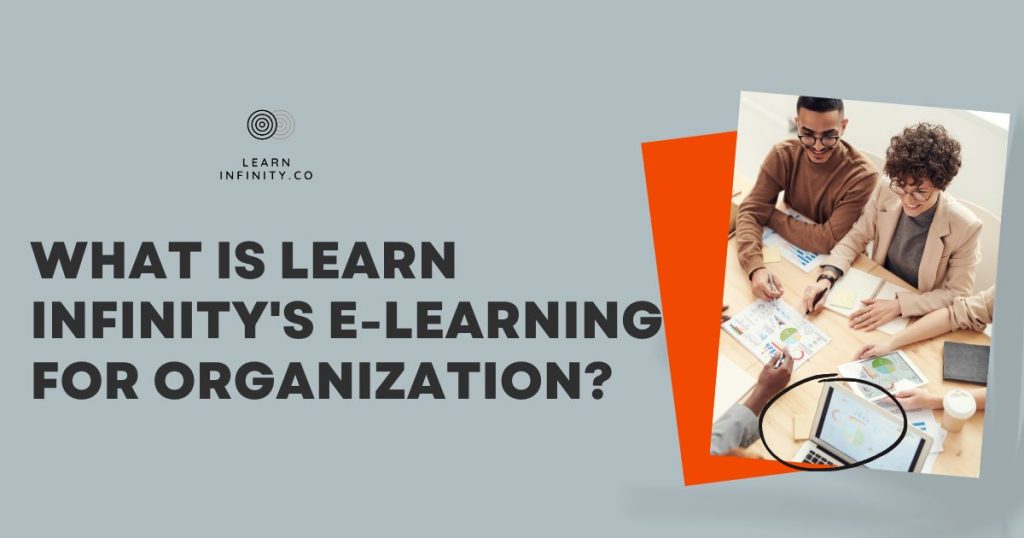 Learn Infinity's non-traditional learning environment is purely based on the desire to work with the team, identify gaps, and design and develop effective learning materials for 'remote learning'. A lot of organizations struggle with finding the right kind of training method for their employees. 
The traditional method of training brings in a lot of hassle of hiring a trainer whose capability can be doubtful, aligning his time with that of employees, and arranging training spaces. In between all these, we often find employees doing the graveyard shift which causes burnout hence affecting the overall performance of the company followed by a decline in profitability. 
Learn Infinity is a team of experts who are committed to bringing end-to-end, web-based, and device-friendly Learning Technologies and Solutions for companies. We build custom e-learning materials according to your need. We also translate and localize our content for the diverse workforce.
Our continuous and real-time e-learning service provides convenience for employees to do their jobs on time as well as train themselves wherever and whenever they can.
We identify your employee needs, management needs and ideal needs as per industry through various assessment methods.
Craft the learning journey keeping in mind the overarching performance goal
Define the learning goals, content, and media treatment for each topic nugget. 
Develop all the content requirements in form of videos, multimedia, animations, text, practical tasks, quizzes etc.
Deploy all the nuggets after multiple pilot testings and translations in company's learning management system with learning analytics.
Deliver the full power-packed course for company employees testing their overall experience and performance growth.
Immersive learning experience
We create scenarios with job-based complexed problems to enhance employee's quick decision making skills.
We bring contextual stories with the right narrative, relatable characters and logical application which simplifies the learning process.
We provide reliable and powerful video tools for easy conceptualization and break-down of the content.
We customize learning both according to the needs of the companies as well as need of the employees.
We help you collect, measure and analyze employee data to drive the optimum benefits of our learning process.
In the current digital world, adapting to the latest trend is the immediate way forward to excel in productivity and hence maximize the organization's profit. Learn Infinity's e-learning for oraganization helps you identify training gaps and helps design the best learning materials that can be accessed anywhere, anytime. Learn more about us.
Place a consultation call